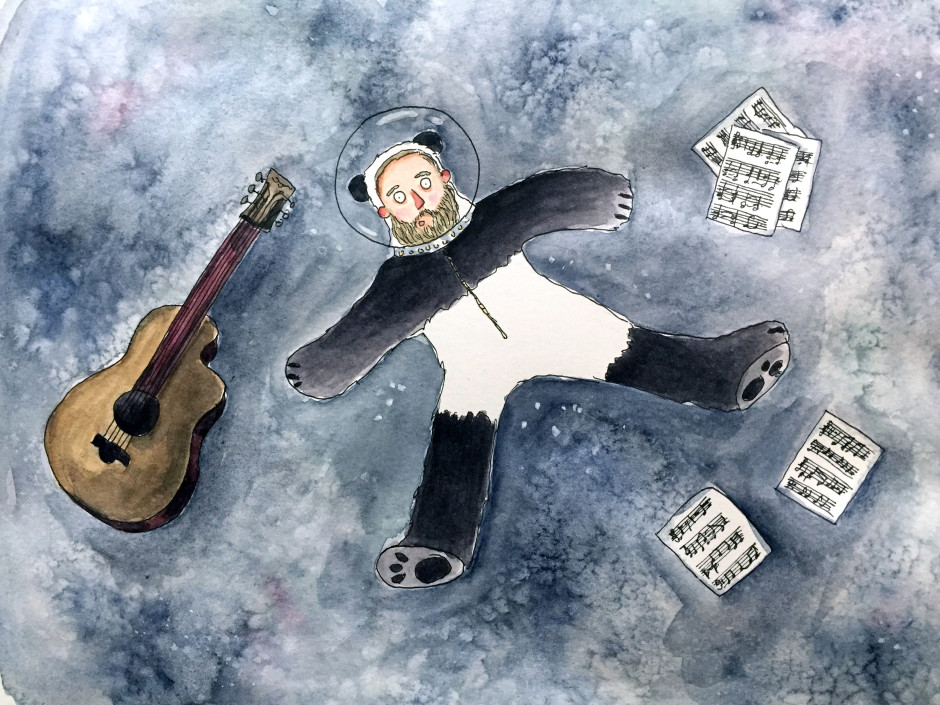 Stuff Panda Scott Gets Up To
If there is one thing I've learned since I've started this illustration malarkey, it's that besides my affinity for painting MMA fighters doing silly things, I also love nothing more than to paint people and things wearing costumes while in peculiar situations. So when you befriend someone who will allow you to use them as the subject for an on-going series of really random costumed shenanigans, you run with it before they realise how foolish of a decision it was to agree to let you at it. And if they, despite it all, actually start talking about future pieces and collaborations, you make damn sure to go sacrifice some piece of your soul to the altar of Thanking Your Lucky Stars: this is a rare Top Person specimen, and having them around is worth giving them a piece of yourself in return.

This fine fellow is Scott von Badass. He's an all-around A+ human being with a penchant for musical endeavours. This is the only version of him not wearing his panda suit, so obviously, it's worth as many dollhairs as his fancy top hat and snazzy monocle suggest.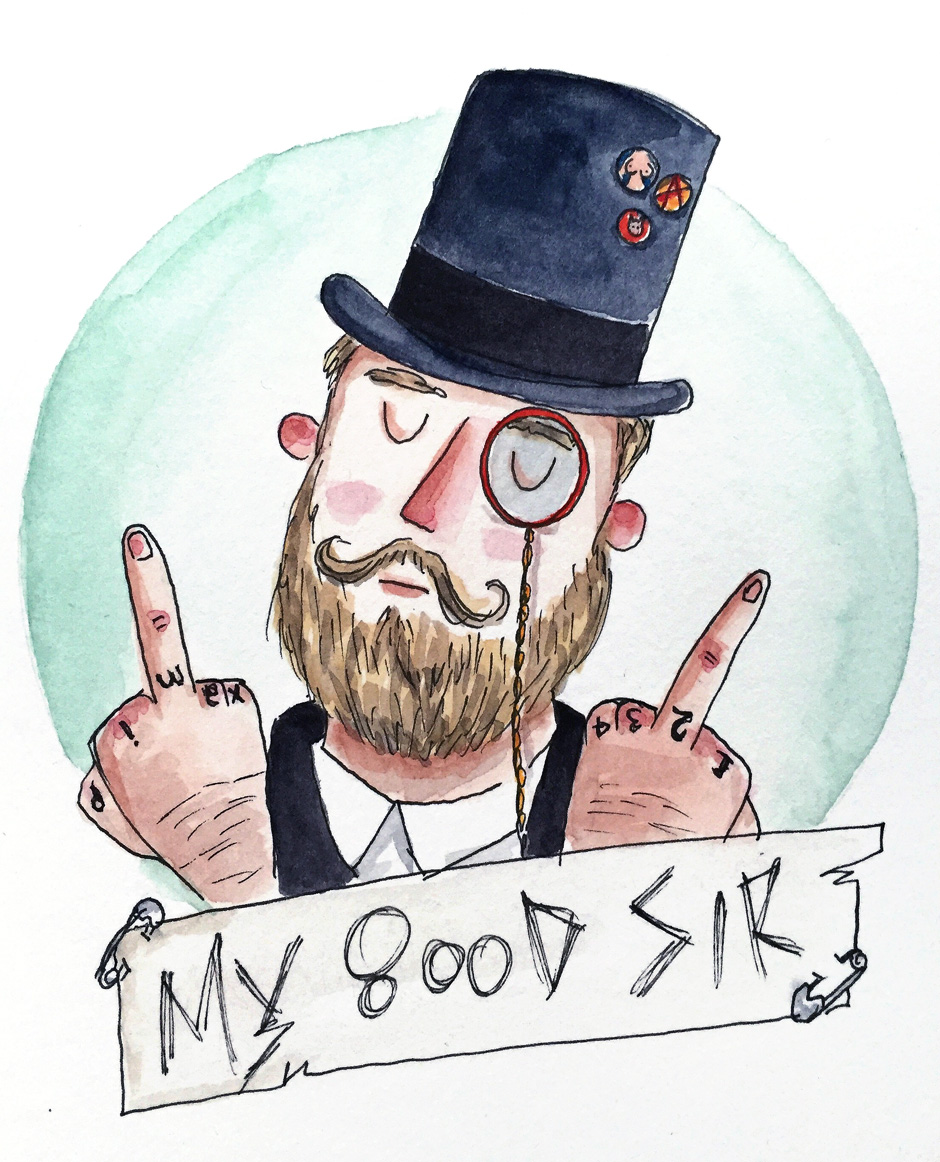 Here he is on the day we actually met, serenading coyotes, squirrels and a curious child with exquisitely-crafted acoustic renditions of tunes such as Mother by Danzig, and By Your Side by Sade. You probably can't tell very well, because my photo skills that day were absolute garbage, but he made an instant groupie: a fly named Stan. Followed him everywhere and would not leave him alone. Talent does that to a person.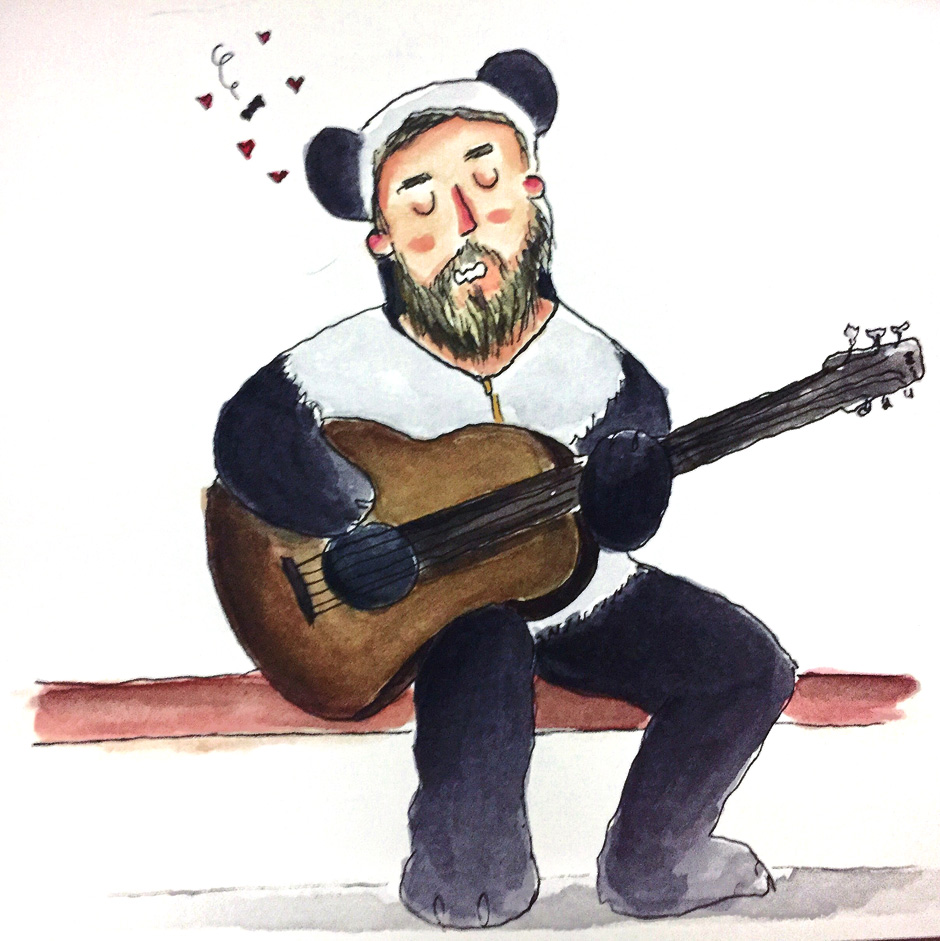 "Secret Agent Panda Scott hiding in plain sight. Acrophobia will not ground this pandabear, dagnabbit." Nevermind that he is afraid of heights.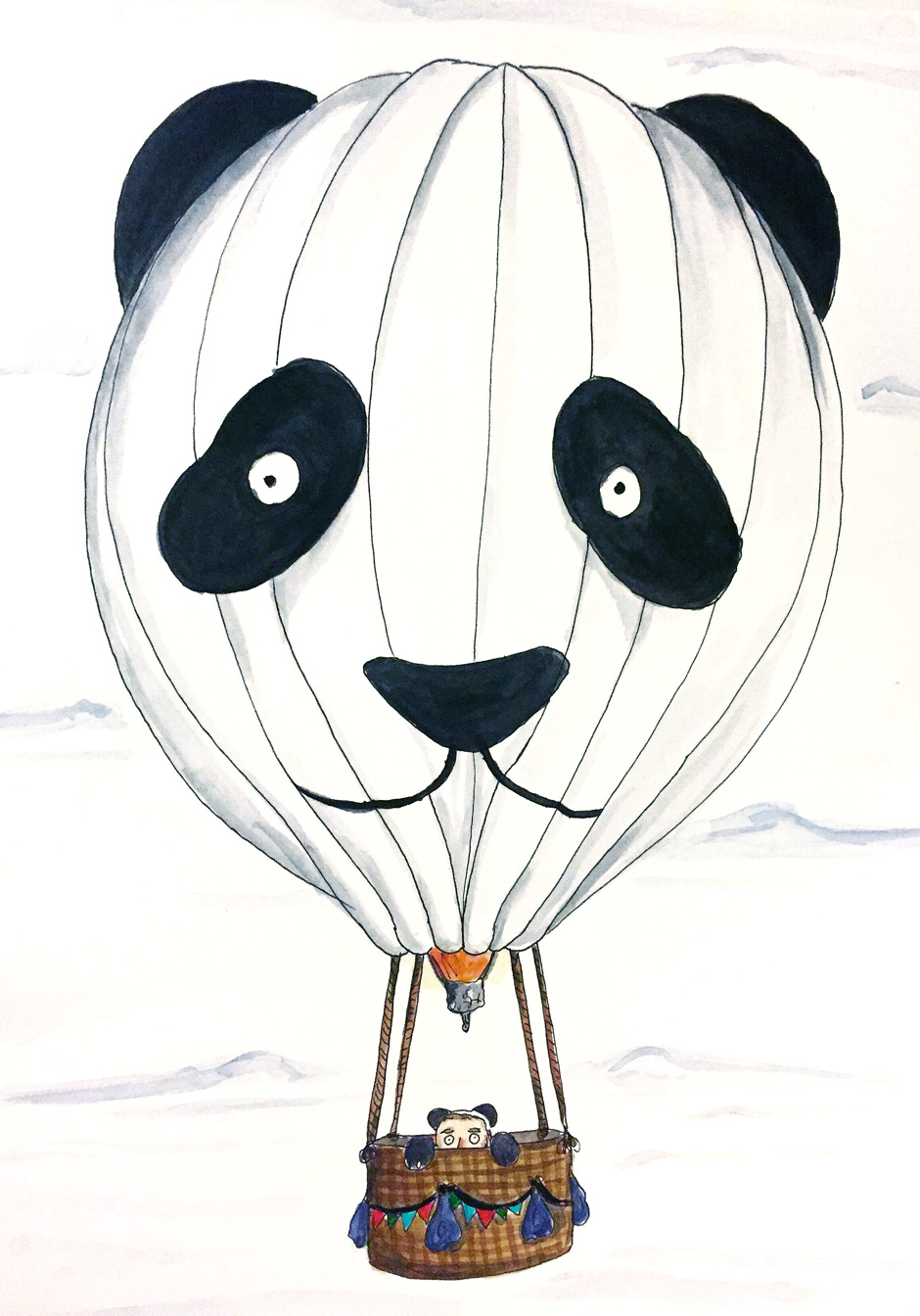 Trekking through the desert on a camel named Jeff. "Pretty warm. The views are nice, albeit monotonous. Bleating camel not great at harmonies, but otherwise provides great steady beats."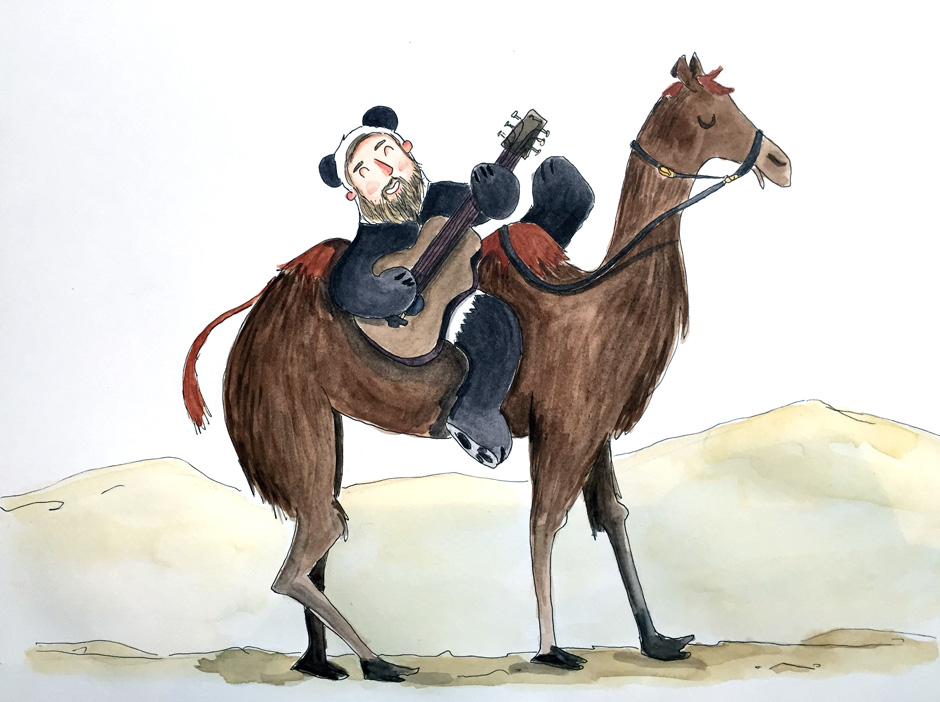 Inconspicuously blending in with the penguin spies.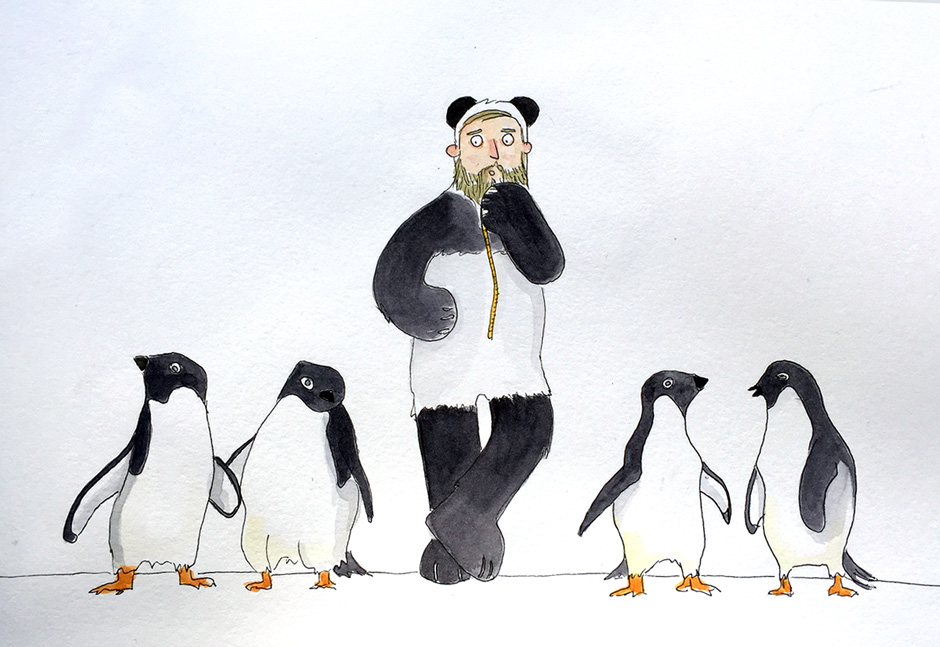 Panda Scott really has been a real catalyst for an avalanche of new projects. I want to make a small popup book of his adventures, and am starting the parts for an automaton of him playing the guitar. Really excited to learn more complicated popup techniques after trying out a simple popup fold. This one is about an 1.5″ high and took more time to cut out than to paint and assemble. Lesson learned: work bigger if there are going to be tiny details.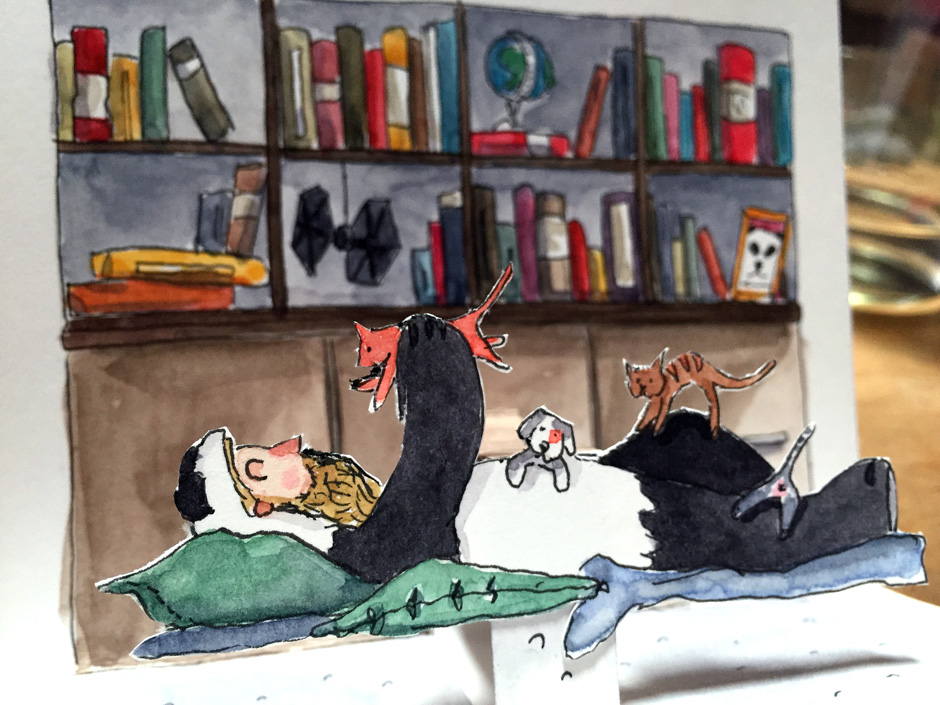 And obviously, he's gained entry into the very exclusive My Heart Beats Only For You (And a Dozen Other People) Club, and his string likeness has become my favourite, and my best embroidered man-face yet.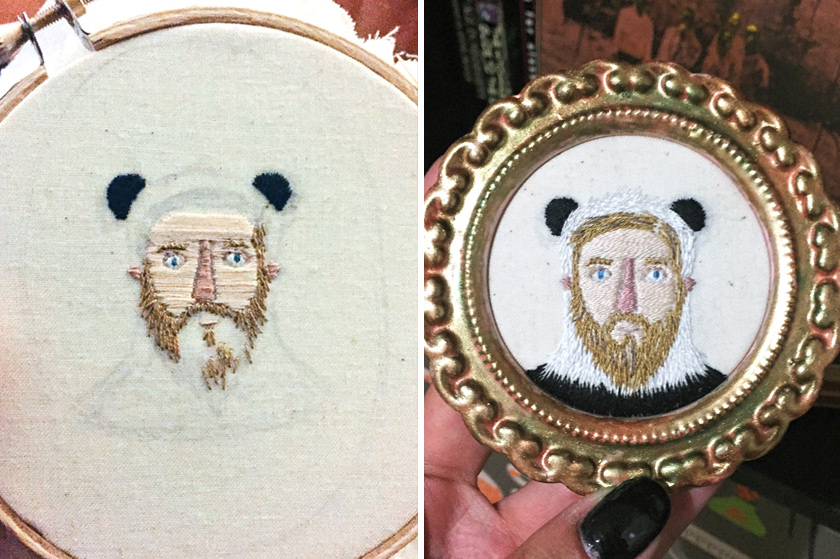 I mean, peep that fur and hair! Pretty proud of myself.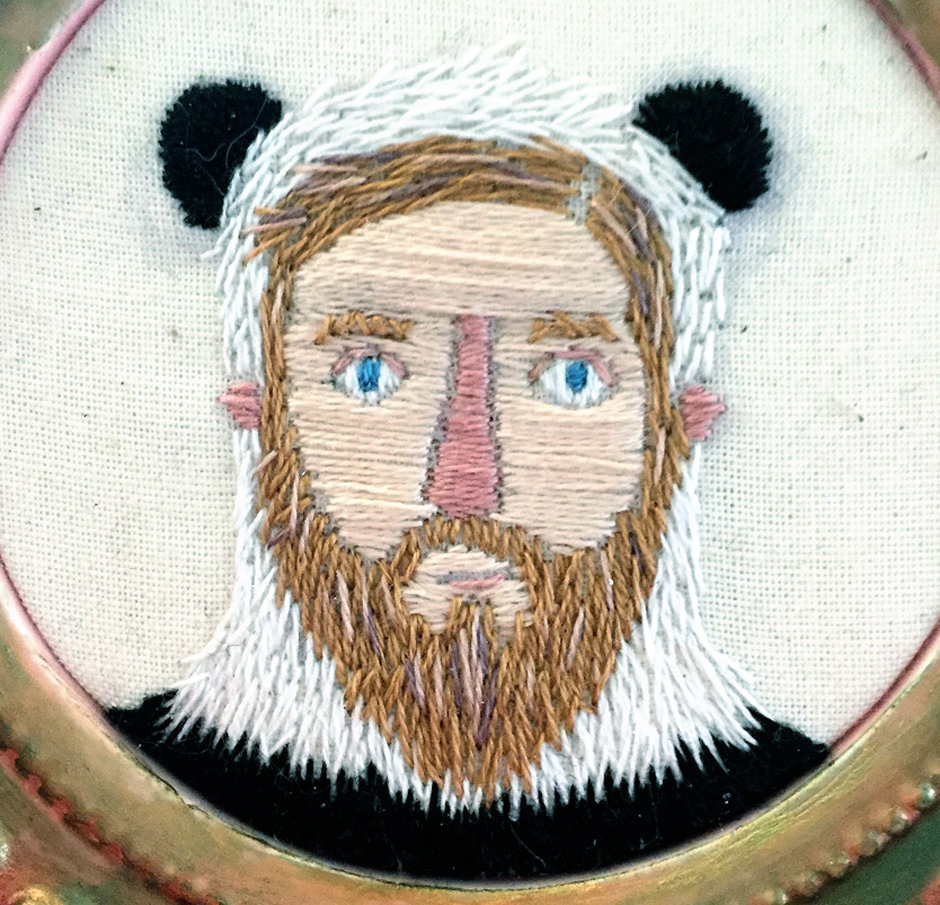 Here's to more Panda Scott highjinks and tomfoolery!